Paul A Braginetz, Engineer, is available by calling 1-540-885-3033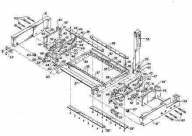 Engineering and Axonometric Drawings
Paul Braginetz is an expert on the topics of the theory and practices involved in the field of Engineering and Engineering Graphics.
Both, studying and teaching at Syracuse University, areas of expertise include orthographic projections, auxiliary views, sections, axonometric, oblique and perspective views.
Conventional "old school" (not computer) methods are preferred and practiced in real application, as shown by the drawings at left, where descriptive and analytical geometry is used.
There is no one, in DC, New York, Chicago, London, (or anywhere that we can find), that has the expertise or experience of Braginetz