Download the thesis exclusively on this website.

Warning: 8MB file
28.8K– 32 Minutes*
56K– 14 Minutes*
ISDN– 5.5 Minutes*

If you do not have the Adobe Acrobat Reader download it from here now
Trisecting the Angle
Paul Braginetz was more then intrigued when he read a Parade Magazine article written by Marilyn Vos Savant published in 1993 on the subject of unsolved mathematical problems handed down through the ages.
Contemplating a solution, a derived radial grid system evolved. Premised on this grid system the impossible theme for a solution became a challenge to Braginetz. The rest is history.
The response to solving the trisecting problem reads like a Military Field Manual for the assembly of a water cooled .30 caliber machine gun. Step by step, paragraph by paragraph, through instruction and geometric graphic representation, the subject is carried to conclusion and substantiated by three (3) proofs toward a solution.
The study culminates with the structure of a trisected Reflex angle, mirrored to a trisected Reciprocal angle, which interfaces an arbitrarily selected trisected angle in the range of 0 to 180 degrees.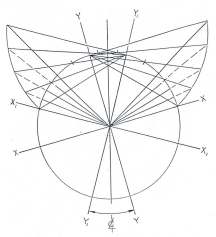 VIEW NEWS VIDEO CLIP:
Click HERE to view video